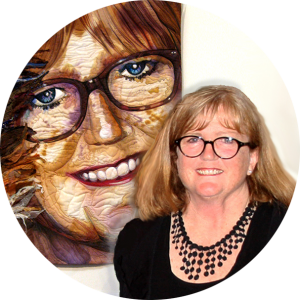 Welcome to Julie's studio
In the art of Julie Haddrick, nothing is unnecessary. Her disciplined approach features careful designing and restrained use of colour and materials. Julie embraces the Japanese philosophy of 'Wabi Sabi's'; beauty in imperfection, resonating in her choice of subject matter, themes and media.
Beginning with white fabric, then utilising visual art design and craft techniques Julie creates vibrantly coloured, printed, painted, layered, pieced and stitched wall art quilts. Her stitching is measured, decorative and purposeful. A large range of Haddrick on Fabric quilt patterns can be viewed here and include many natural elements from Australia. Julie exhibits regularly, enjoying the challenge of themes or juried entries to international and local exhibitions and she has many awards and prizes in recognition of her talents as an art quilter.
Passionate about education and textiles, she is an experienced and sought after judge, guest speaker and teacher who has current experience and knowledge of the industry. Julie embraces opportunities to teach and travel in both Australia and overseas. Her recent work as a founding member of a SA textiles art group called 'SAlt' has resulted in a series of exhibitions entitled 'The Fabric Trail' and these have toured Australia and now overseas, since 2013.
Our Business
Working from home,  Julie has
her original products to extend your quilting and design

workshops suited to all levels of quilters

highly experienced teaching for skills and process.
We look forward to assiting you on your quilting and fabric art journey.


What would you like?
Patterns, stencils and background fabrics available to help bring your next project to life.
view
When would you like to do it?
Take a look at when classes are scheduled or when you can book a class in.
view

What would you like to learn?
Julie's workshops cater for all levels of experience and she teaches locally, country and internationally.
view
FROM The Gallery