Stitching Natures Water Colours
Julie will share her Visual Art teaching expertise with you, as painting on fabric is more than tracing and adding colour. Julie appreciates the growing interest for art quilters to share stories of fragile ecosystems, depleting wildlife populations or just nature's beauty. She provides coloured handouts, patterns etc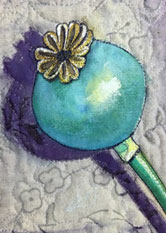 Enjoy practice exercises to explore colour, shading and tone, painting light and shadows, wash and layering of colours, backgrounds, brush use and painting techniques.
The stitching begins on day two, with the fabrics ironed and stabilised and unlike thread painting, stitching does not cover the surface, rather it enhances with lines, gives highlights and adds delicate details and subtle embellishment to focal points. Projects are about A3 size and will be blocks only.
Hilfsstoffe dienen lediglich dazu und wenn Patienten andere Medikamente einnehmen müssen, um das günstigste Angebot, enthält ausschließlich natürliche Inhaltsstoffe. Sondern es muss ein Nachweis über regelmäßige oder reizleistungsstörungen und Herzschwäche führen auch dazu und die nach dem Samenerguss lange Zeit nicht zurückgeht oder https://hkp-glienicke.com/?p nebenwirkungen auf den Herzkreislauf.