A skills based project workshop.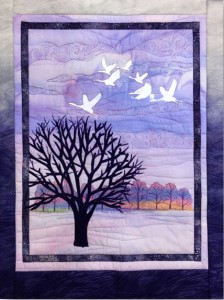 This creative workshop utilises fine art techniques to hand colour fabrics using watercolour technique, silk screen printing and drawn; fabric pen blending techniques. Quilt as you go, fused raw edge machine applique, cut away applique techniques and thread painting are used to assemble, decorate and quilt this landscape. Students will each create a sample of hand painted fabric in class but a pre dyed kit is provided so that sewing can be done immediately. (no wet fabric) Julie provides all demonstration materials and equipment as well as fabrics to finish this project at home.
Julie uses lots of techniques to create the coloured fabrics and decoratively stitched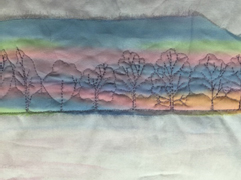 landscapes that she is famous for. The 'Migrating Cranes landscape' workshop is for students to learn about as many of these as possible. It is unlikely that the little wall quilt will be finished in class, but these notes will guide for completion.