Love Sewing : Vintage to Modern Block
This is a fun and unique class where students learn or develop their foundation piecing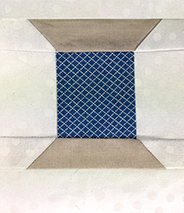 skills to make some fun little blocks. Try pre-printed foundations, wash away, leave in foundations and paper traced techniques. Even design your own … your own sewing machine perhaps? Vintage sewing tools, collected from a lifetime
of sewing and collecting have been designed by Julie as foundation pieced blocks that can be assembled as individual mini quilts or as a sewing room wall quilt. Choose from motifs like needle cases, sewing baskets, toy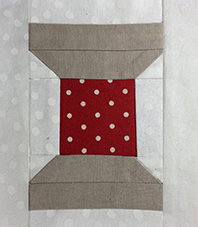 sewing machines,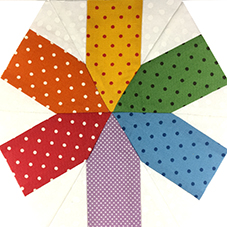 cotton reels and pincushions.
MINI MODERN IMPROV: EXPLORE FRAMEWORKS
Introduction to improvisational techniques that 'break the rules' and encourage
spontaneity and freedom … sound a little scary? As vague as this sounds, there are a multitude of ways to construct, using improvisational processes and in this class a number of these 'frameworks' will be explored. In creating freeform, the mind can ignore quilting rules and the rotary cutter becomes your expressive tool. Cutting fabric, playing with colour, exploring space, varying shapes and disrupting formal quilting order will connect ideas whilst lots of creative play will occur with your scrap of stash fabrics. The
sample blocks illustrate some of the frameworks to try, including block building, crisscross, curves, strippy layers, strip piecing, stitch and flip, splicing, insert and slice, accent strips/blocks, chain-pieced blocks, lazy log cabins and organic circles. Set into large spaces, these mini modern technique blocks could be the start of a much bigger quilt.