This creative workshop utilises fine art techniques to hand colour fabric using heliographic fabric paints and laser cut stencils and hand     c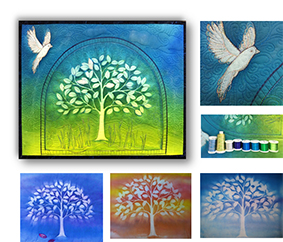 olouring with fabric pens. 'Quilt as you go' technique with cut away, raw edge applique technique (using crystal organza) and thread painting are demonstrated, with free machine quilting  to finish this piece.  Students will each create a sample of heliographic stencil / fabric. Students may select their own colour schemes and will develop a quilt 22 x 16 inches in size.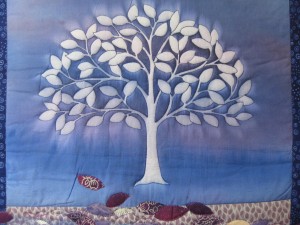 A $20 materials fee (payable at the workshop) provides stencils and paints to sun print the tree and bird that is then machine quilted and machine embellished. On day 1 you will learn to use Heliographic fabric sun paints to produce their piece and will make additional samples. These will then be used as machine quilting samples on the 2nd day. A set of coloured teaching notes is included.
Colour for Quilters with a Modern Twist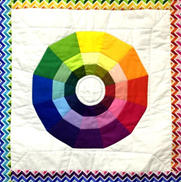 Learning about, understanding, using and appreciating COLOUR is a lifelong artistic challenge and that is in part, what makes it such an exciting and important element to use in quilt making. It is impossible to know everything about colour and many quilters struggle with, or lack the experience or confidence with choosing and using colours. DAY 1 Colour wheel quilt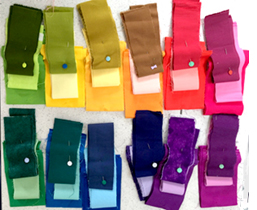 Understanding and knowing basic colour relationships can be a great starting point and in this class, Julie will guide students through a series of fun and easy exercises that are based on a colour wheel.
Julie provides all of the fabric swatches for each student to cut segments (using a 30 degree wedge ruler) to make a 12 segment  colour wheel with tints and shades and this panel can then be extended into a small art quilt to hang and use in the sewing room. Students may wish to work further on this by adding borders or begin some colour samples using different colour schemes, tonal values, temperatures, colour ratio and proportions.  Day 2 Half square triangle colour scheme quilts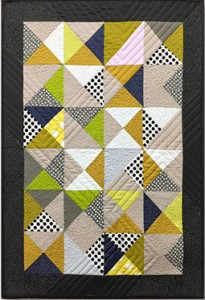 Understanding colour and knowing how to use it successfully and powerfully is a great skill to have and day 2 workshop uses many of the different colour schemes to create small half square triangle quilts. (HST)  Students will learn how to create certain colour schemes that are powerful, dramatic, subtle and or unique. By assembling small quilts enables students to really understand the ways that colour can work in modern quilts. Students will work predominantly in plain fabrics with minor feature prints and discussion will include how to use stitch; machine quilting to enhance a modern quilt.