Rajah Award
Very surprised and feeling almost speechless Julie was delighted to receive the Rajah Award at AQC in Melbourne in April.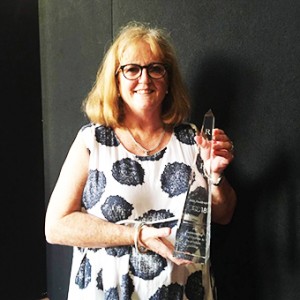 The Rajah is an industry peer nominated prize, awarded annually to the person who has made the greatest contribution to the textile art and quilting industry in Australia. The award is named after the only remaining quilt made by convict women on the ship "Rajah" en route to Australia in 1841. The women had been provided with sewing packages containing fabrics, needles, threads and scissors by women who looked after them before the ship left and taught them to sew. The Rajah quilt can be viewed in the National Gallery in Canberra.
Gary Fitzroy the co-convenor of the Australasian Quilt Convention said " Julie is not only an international award winning quilt maker using stunning original designs, she gives time generously to ensure that textile art is a significant part of our culture." In addition to exhibiting Julie has worked with many churches to produce art work and commissions for private collectors are a feature of innovators of less traditional art forms.
I am very honoured to be named the Rajah Award winner for 2018 and join a very talented group of wonderful women who have gone before me.